Continental Warranty
Compare the top auto warranty companies in America based on their specific plans and pricing. To ensure that you get accurate information about your favorite auto warranty company, you should take a look at some of the details that are outlined about these companies. These include information on Deductible, Waiting Period, Car Rental Assistance, Road-Side Assistance, Flat Tire Assistance, Lock Out Assistance and the Overall ratings....View More
Auto Warranty Plan Details and Reviews for
Continental Warranty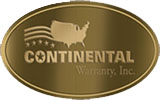 Deductible:
$50
Waiting Period:
30 days
Car Rental Assistance:
Yes
Road Side Assistance:
Yes
Flat Tire Assistance:
Yes
Lock out assistance:
Yes
Web: continentalwarranty.org
Reviews
Johnnyp1387 | 08/30/12, 5:50 am | Rate this review: Overall Rating

When a warranty says $100 deductible normally it means we only pay $100. They tried to charge me over $800 for a blown head gasket then after arguing for A WEEK finally got them to replace the engine which i still had to pay $300(plus deductible) and the engine was a junk one and had to put a second one in GOT CHARGE $300 AGAIN!!! Customer service will NOT return any phone calls!! Been over 2 months and now am getting a letter from mechanic shop saying i owe $1000 because continental never paid! STAY AWAY FROM THIS COMPANY!!!!

TrustIsEarned | 08/30/12, 5:51 am | Rate this review: Overall Rating

I have an extended warranty with Continental Warranty. I took my car to the shop on February 6,2012 for a diagnostic check. The repair shop called me the next day and said my transmission was fried, basically needed a new one. I wasn't worried, because I called Continental prior to taking it to the shop and was told my warranty covered transmission and engine problems totally. It started with Continental asking for oil change receipts (which I had) and asking me to fax them to the company. After doing this, it was another week before and adjuster came out to verify that the car needed a new transmission. After that, another week went by before I finally had to call and inquire why it was taking so long. The owner of the shop told me, he was dealing with a guy named Matt at continental warranty. When I called Matt, he came across as a nice guy, who seem concerned about getting my car back on the road. He told me after we hung up, he would order the transmission and call the mechanic to let him know of the order. Another week went by and I'm thinking that the car should be getting prepped to give back to me. I called and the mechanic said he hasn't heard from Matt nor has the transmission been delivered. I called Matt and he told me he was in the process of ordering the transmission. Another week goes by, no transmission and neither of the two have answers for me. Meanwhile I'm making monthly car payments and no car. They both suggested I rent a car in the meantime, but Continental said they would not put up any money for a rental?. I went on a two week vacation and thought that by time I came back the car would be ready and I get get back to my regular routine which included my car". I called the mechanic, he told me the car was fixed for at least a week (took him a day to fix it) but Matt is giving him the run around for payment!. I called Matt, he told me he was waiting for the mechanic to send an invoice so he could send out a check'. The mechanic asked me to come to his shop,. When I got there, he showed me two confirmation faxes where he had sent the invoice on two separate occasions to Continental.. While I was there, he sent another;. I called Matt and he said he received it and payment should be received in 7 to 10 business days! The nerve of them! The whole process was two days short of two months for a job that took a day to complete,. Never again will I purchase an extended warranty from a company other than the car manufacturer

Deea | 01/18/13, 4:38 am | Rate this review: Customer Service Repair/Replacement Service Overall Rating

I purchased a Continental Warranty Extended Warranty contract through the Land Rover Cherry Hill, NJ dealership. The contract is comprehensive and clearly lists all items covered by warranty by category. My repair item was clearly listed. The dealership forgot to submit the warranty claim and told us to contact Continental and submit our receipt for full reimbursement of the warranty item less the deductible. The Continental Representative arguablly stated that they would not honor the warranty and that although the item was listed they no longer provide warranty for such covered repair. What's the point in a contract!

BUYER BE WARE!! DO NOT PURCHASE THIS EXTENDED WARRANTY. You may think that buying an extended warranty from the dealer you purchased your car from is reputable, but it is not.