Alpha Warranty Services
Compare the top auto warranty companies in America based on their specific plans and pricing. To ensure that you get accurate information about your favorite auto warranty company, you should take a look at some of the details that are outlined about these companies. These include information on Deductible, Waiting Period, Car Rental Assistance, Road-Side Assistance, Flat Tire Assistance, Lock Out Assistance and the Overall ratings....View More
Auto Warranty Plan Details and Reviews for
Alpha Warranty Services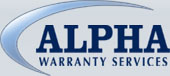 Deductible:
$0
Waiting Period:
30 days
Car Rental Assistance:
no
Road Side Assistance:
yes
Flat Tire Assistance:
yes
Lock out assistance:
yes
Web: alphawarranty.com
Reviews
Aaron | 12/03/12, 6:04 pm | Rate this review: Customer Service Repair/Replacement Service Overall Rating

Couldn't be happier with Alpha Warranty Services. They saved me over $1300 on my struts and tie rod repair. Their customer service was fantastic. Thanks Alpha Warranty!

james ogden | 11/17/13, 12:10 pm | Rate this review:

using nissan maintenance coverage for 2010 Nissan Maxima with sport and luxury package w/o installed GPS coverage costs $1200 for 100,000 miles. can you do better?