Alpha Warranty Services
Auto Warranty Plan Details and Reviews for
Alpha Warranty Services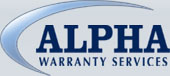 Deductible:
$0
Waiting Period:
30 days
Car Rental Assistance:
no
Road Side Assistance:
yes
Flat Tier Assistance:
yes
Lock out assistance:
yes
Web: alphawarranty.com
One Review
Aaron on 12/03/12. Rate this review: 0 0 Couldn't be happier with Alpha Warranty Services. They saved me over $1300 on my struts and tie rod repair. Their customer service was fantastic. Thanks Alpha Warranty!